---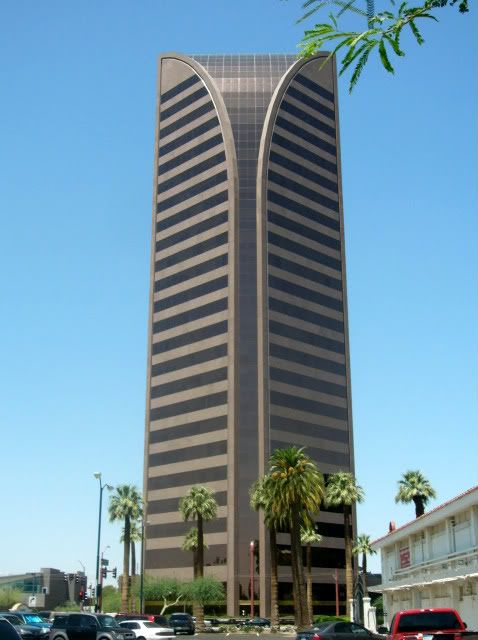 Unfortunately I could not catch the name of this tower but when I do I'll let you know what the name is. In the meantime just enjoy it's beauty.
Ok here it is:
The Viad Tower is a highrise in Midtown Phoenix, Arizona also known as the Viad Corporate Center and formerly the Dial Tower. The tower was constructed in 1991 for the Dial company, which is why the building resembles a Dial soap bar. It rises 374 feet (114 meters), topping out at 24 floors.

It was designed in the modern style by HKS, Inc. Originally, the tower was supposed to have a twin, rotated 90 degrees from the current tower, but due to the Savings and Loan Crisis of the 1980's and 90's, the tower was dropped. Today, the Viad Tower stands as one of Phoenix's most prominent skyscrapers. It is located across the street from the Phoenix Art Museum on Central Avenue just north of McDowell Road between Downtown Phoenix and Midtown Phoenix. The building features a large landscaped public park with many statues and fountains near the entrance. Completed in 1991, the Viad Tower was the last major skyscraper to be constructed in Midtown.

Text borrowed from Wikipedia.
Labels: downtown phoenix, tower, viad tower
| posted by Jose, 7:39 AM
---